Particle Cloud (Hangzhou) carry out in-depth cooperation with local resources
2022-03-07 15:20
---
We have increased capital investment in Particle Cloud(Hangzhou)based on the cross-regional and multi-point collaboration strategy.The infrastructure construction of Particle Cloud(Hangzhou)has been gradually improved.Supporting facilities such as hardware and software are also in place one after another.Recently,we have strengthened the cooperation with local resources of Hangzhou in the technical and financial fields.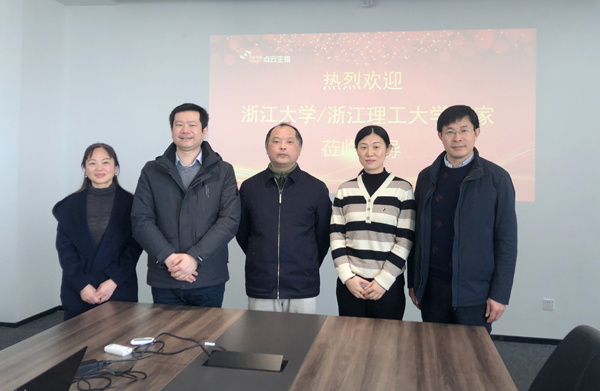 2022.2.23 am, Prof. Xiangdong Kong from Zhejiang University of Science and Technology and Prof. Haihua Pan from Zhejiang University visited Particle Cloud (Hangzhou)

Professor Kong is engaged in the research work of biology-materials-medicine field.Professor Pan has been engaged in the research of orthopaedic repair materials for a long time.The current research work of the two professors has a high degree of relevance and strong correlation with the Particle Cloud.Particle Cloud always upholds an open attitude and expects to combine the technical advantages and industrialization experience with scientific research of universitiesin Hangzhou,and we want to achieve win-win cooperation with local resources.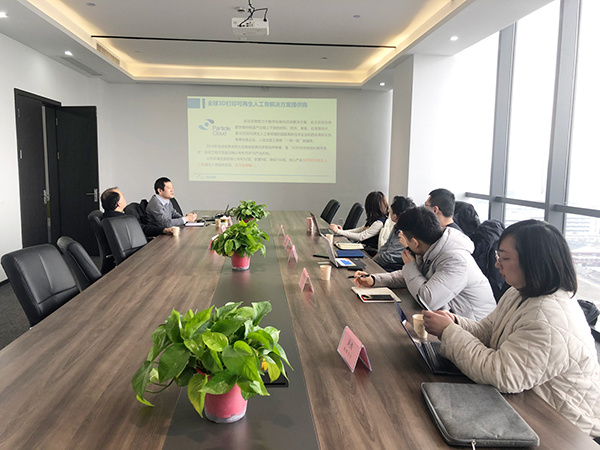 2022.2.23 PM,Sanhua Holdings and CICC ChuanHua visited Particle Cloud(Hangzhou)

Introduced by Ms.Ying Wu from Qiantang Ventures,PaiTang,ZhifanXu,Zhen Panfrom Sanhua Holdings,and HuijinYang from CICC visited Particle Cloud(Hangzhou).
QingfengZeng,chairman of Particle Cloud,introduced the company's main business,competitive advantages and development plan to the guests.In the subsequent visit,the 3D printed renewable artificial bone produced by Particle Cloud was displayed,the industrial layout and business planning of Particle Cloud(Hangzhou)were introduced,and the industrialization ability and development potential of Particle Cloud were fully demonstrated.
  
2022.2.24,the Medical Port Town Team of Hangzhou United Bank visited Particle Cloud(Hangzhou)again

The Medical Port Town Team of Hangzhou United Bank maintains close contact with Particle Cloud.The team leader,JiayiShi,is very concerned about the progress of Particle Cloud construction,makes suggestions for the development of Particle Cloud,and supports the accelerated development of Particle Cloud in Hangzhou.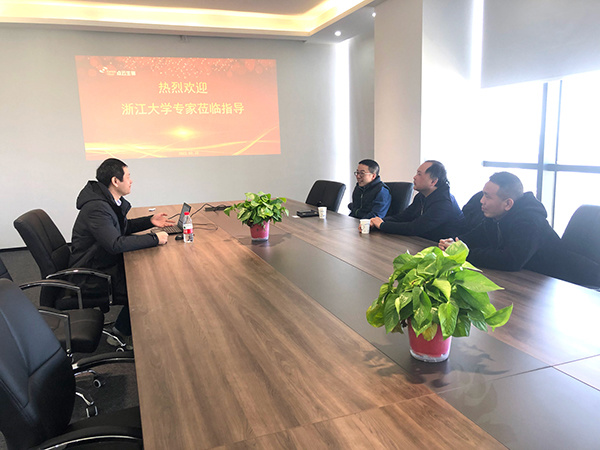 2022.2.25,Professor HaihuaPan from Zhejiang University led the team to visit Particle Cloud(Hangzhou)again to exchange and share experience
Experts from Zhejiang University visited the biological exhibition hall and office area,and learned about the development history and honors of Particle Cloud;then they visited the GMP workshop,and learned about the construction of the artificial bone workshop and material workshop in detail,and gained a deeper understanding of the infrastructure and construction effects of Hangzhou Particle Cloud.
During the conversation,experts from Zhejiang University gave full play to their professional advantages,sincerely put forward suggestions on the construction of Hangzhou Particle Cloud,and expressed their expectation that they could take advantage of Hangzhou Particle Cloud's equipment and laboratory advantages to cooperate in the field of biomaterials research and other fields.

---
sales

technology

3D printing technology consulting

Focus on

Official account

Follow the official account for more inspiration