UV curable ceramic resin
After UV curing 3D printing, after special high-temperature processing, dense ceramic component products are formed
---
Contact us
A ceramic resin newly developed by Particle Cloud that can be used for SLA and DLP printers. After UV curing 3D printing, after special high-temperature processing, dense ceramic component products are formed, which can be used to manufacture some ceramic components with complex structures and ceramic coatings that cannot be manufactured by traditional methods. The materials currently developed include alumina, zirconia, hydroxyapatite, β- TCP and other ceramic resins, and alumina/zirconia and other composite ceramic resins. The independently developed material formula can achieve up to 50% ceramic volume content.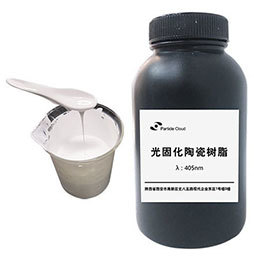 2.Product specification parameters
Appearance: white viscous liquid
Ceramic content: up to 50% ceramic volume content
Specification type: α-Al2O3, 3Y-TZP, ATZ, ZTA, hydroxyapatite, β-TCP
Viscosity: 6000~20000cps @ 25℃
3.Reference printing parameters
Curing light source wavelength: 405nm @ LED; Light source power: 500mW
| | |
| --- | --- |
| Layer thickness | Time of exposure |
| 25μm | 3s |
| 50μm | 7s |
Note: ceramic resin printing has higher requirements on equipment and is more difficult to print than pure resin.
4.Material performance advantages
1. High solid content, low viscosity and excellent fluidity of ceramic materials
2. Suitable for rapid curing, fast printing and forming, and high fineness
3. The density after high temperature sintering treatment in the later stage is not less than 95% of the theoretical value, and the linear shrinkage is less than 20%. The sintered ceramic parts have good compactness, uniform density and excellent mechanical properties (related to printing equipment process and sintering equipment process)
Breaking through the limitations of traditional ceramic parts processing technology, it can prepare hollow, porous, special-shaped curve and other complex ceramic structural parts with high forming precision. It is widely used in architecture, industry, medicine, aerospace and other fields, such as ceramic cores, orthopedic substitutes, catalysts, etc.
sales

technology

3D printing technology consulting

Focus on

Official account

Follow the official account for more inspiration